Definition
Haemorrhoidal disease definition
The haemorrhoids are veins, normally located in the rectum or the anal channel.
Pathology and the symptoms are related to the dilation of these haemorrhoidal veins which increase dimension and are expressed by the anus.
The haemorrhoidal disease is source of various nuisances: red bleeding of blood accompanying or following the saddle, anal pains, dropsical pushes (swelling of the haemorrhoids), haemorrhoidal prolapse (projection of the haemorrhoids apart from the anus), haemorrhoidal thrombosis (formation of a clot in a haemorrhoidal vein).
Classification haemorrhoids
Supported by the efforts of push, the haemorrhoids are classified in four stages, according to whether they remain inside the anal channel (stage 1) or that they
in leave in a permanent way (frank procidence stage 3 and prolapse stage 4).
The introduction of a treatment depends on the symptoms and the stage.
SURGICAL INDICATION

The surgery is indicated:

♦soit because of the failure of the medical care (hygiene, food mode, pomades, bindings)

♦ in urgency in the event of haemorrhoidal thrombosis

♦soit in the event of bulky haemorrhoids (stage 3 and 4)
Classification en stades de la Pathologie hémorroïdaire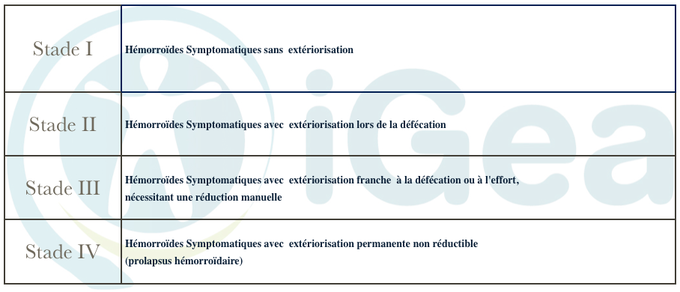 Haemorrhoidal

thrombosis
Approximately 15% of the patients who suffer from haemorrhoids will have pushes of thrombosis.
It is about a small generally single, bluish, hard tumefaction under the skin of the anal margin. Its spontaneous evolution is done towards one
necrose with evacuation of the thrombus or towards the slow resorption being able to lead to the formation of marisque (cutaneous after-effect).
The treatment of external, recent and painful thrombosis haemorrhoidal, is l'incision and the extraction of the clot under local anaesthesia (injection of
lidocaïne under and around the clot). An incision is carried out along the erased folds, followed by the excision of the banks to avoid their early closing. Lastly, the clot is extracted then the cavity is cleaned.
In the event of dropsical thrombosis, seen tardily, or not very painful, one resorts to the medical care associating paracetamol, AINS by oral way and
application of a pomade containing of corticoids.
Classification pathologie hémorroïdaire  dr Vincenzo Salsano Montpellier dernière mise à jours Novembre  2016